FC Cincinnati may have put a nail in the coffin of Chicago Fire head coach Veljko Paunovic's tenure as manager as they came to SeatGeek Stadium and beat Chicago 2-1. Cincinnati opened the scoring in the first minute as a cross hit Fabian Herbers and the ball was left on a platter for Allen Cruz to score.
Gaitan had a chance to level the game after a VAR review awarded the Fire a penalty but missed. After a lengthy weather delay, he had another opportunity from the penalty spot. His shot was saved but he quickly pounced on the rebound and tied the game. Cincinnati, however, scored late in the second half the goal that won them the game.
"It's a tough one. Obviously no one expected that we could be surprised that early in the game and I think we lacked courage today playing against a team that had more than us and it was hard to see the performance in the second-half where we just couldn't break down an opponent that had a good fighting spirit and their alternative in counterattack," said Paunovic.
Courage was not the only thing his team was lacking.
Aside from a handful of games, what the Fire lack is that cutting edge and ability to put away their goal scoring chances. Cincinnati parked the bus and stifled the Fire, but they are in last place for a reason. They've given up 45 goals, easily the worst in MLS and the Fire only mustered one goal off a penalty kick.
Their inability to convert and their inane ability to shoot themselves in the foot is why this team currently sits 10th in the Eastern Conference, four points behind the last playoff spot.
Paunovic added, "In this case, we don't look at our opponents like the biggest threat. Our biggest threat is ourselves and that's something we're working to fix. Sometimes we do better, sometimes we just miss some key elements which we will keep addressing and working on it."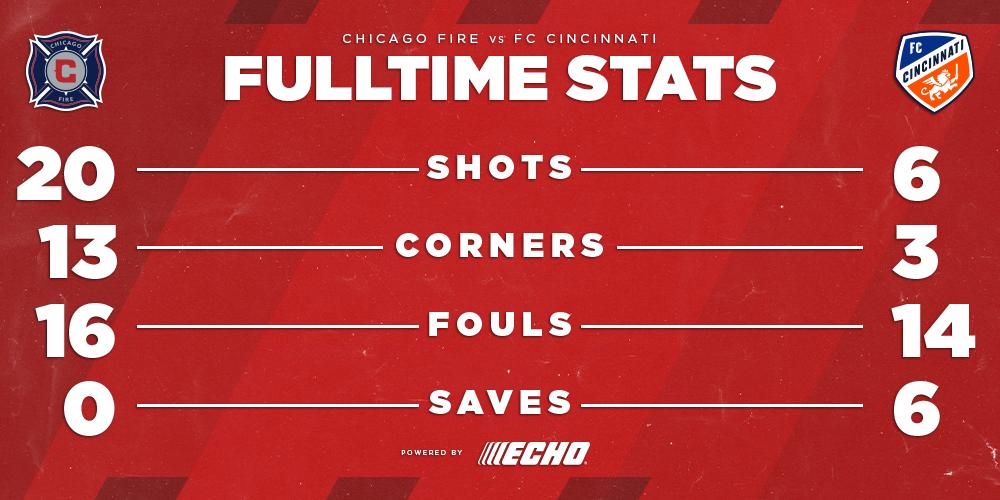 The Fire have been their worst enemy -and biggest threat- this season. There always seems to be a turning point in every game they've dropped points that one could point to and say, "that is where it went wrong." In this game it was the first missed penalty by Gaitan.
Paunovic was on the hot seat coming into this game and that seat surely only got warmer after the result. He knows it as well.
"Every day I'm concerned about my job security. It's a profession where you always have to be ready for any kind of setbacks. You have to know that this is a top flight job and everyone is fighting for it so I'm not concerned, I would say. For me, it's more that I'm aware what we are and how is this profession," he said when asked about his job security.
Against FC Cincinnati and their upcoming match against Columbus, the Fire had a two-game stretch where they would be facing two teams lower in the table than them. They were presented with a great opportunity to get back in the playoff picture. Their latest setback serves to make their task much more complicated.
Fire President and General Manager Nelson Rodriguez will host his next media roundtable on Wednesday prior to the game against Columbus. Paunovic's future and the performance of the team will take center stage.
We're more than halfway through the season and everything is pointing to yet another disappointing season for the Fire.